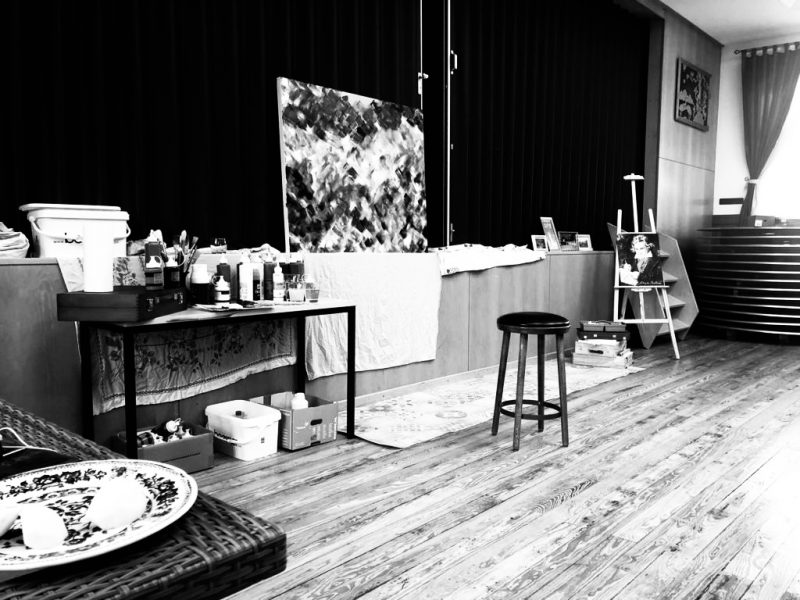 I was born into a family with a long tradition in the arts and sciences and learned art, music, piano and ballet early as a child. As the daughter of a mathematics professor, a ballerina and poet, both the sciences and the arts were present in my family. Born in Kharkov, Ukraine in 1987, I grew up due to my father's research and teaching activities and my mother's teaching activities as a dancer as well as studies in cultural management and leadership for cultural institutions in Kharkov (Ukraine), various countries in Europe as well as Southeast Asia, Vietnam.
As a toddler I watched the performances at the Academy of Dance in Vietnam, Hanoi where my mother was trained as a ballerina and teacher. At the age of about 6, I came to Germany and was adopted through my mother's remarriage. I quickly discovered fine arts, painting and drawing as my passion along with music. As a child I spent a lot of time painting and drawing. I would paint and draw for hours as soon as I got home from school, on the floor or wherever the opportunity presented itself. My parents quickly recognized my enthusiasm as well as talent and specifically encouraged my development.
In art I had the ability to absorb and focus so much that I forgot everything around me. Soon I was attending painting classes for adults and was the only child in the class. At the age of 12, I began to teach drawing courses for children, teenagers and adults on weekends and during school vacations at the Volkshochschule (VHS) in Lich, later followed by other courses in Hesse.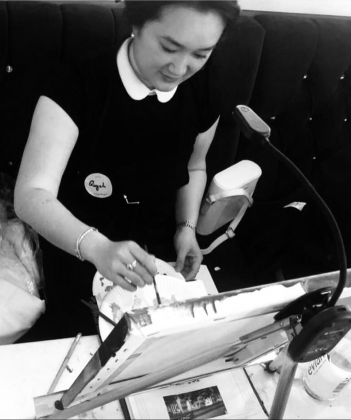 I am convinced that there is creative potential in each of us, we just have to find the right key for the door. And what is more fun than making this a shared meditative & creative experience and exchange?

Quynh Klaus
Attending a boarding school at Lake Constance at a Benedictine school ("Heimschule Kloster Wald" with the mission statement: with hand, heart and mind – translated) enabled me to complete a state-approved tailoring apprenticeship parallel to my high school diploma. In addition, I was able to expand my artistic knowledge in the area of theater, choir, piano concerts and as a piano teacher. I was able to gain pedagogical experience by supporting my classmates and other students in scientific subjects such as mathematics, physics, chemistry and English. I motivated my fellow students to introduce physics as a performance subject at a girls' school starting with my high school graduation year and successfully lobbied for its implementation. At CERN (European Organization for Nuclear Research) I was able to introduce applied physics to my classmates with my lecture on particle accelerators. Life in the convent school not only shaped my character, but also my sense of style. The school taught me discipline, moderation, a preference for clear lines and humility.
"We are just waves in time and space, changing continuously, and the illusion of individuality is produced through the concatenation of the rapidly succeeding phases of existence. What we define as likeness is merely the result of the symmetrical arrangement of molecules which compose our body."
After graduating from high school, I first went to Vienna for a creative fashion internship in a haute couture atelier and then on to the Rotterdam School of Management, Holland. Here, in addition to studying International Business Administration (IBA), the passion was to be a member of the Academic Conferences Committee and work with the networking team within the STAR Study Association (Europe's largest business student organization at the Rotterdam School of Management) to bring together representatives from business and industry as speakers for the campus and students for academic conferences and international exchanges, as well as networking with universities and students from different countries around the world. After that, love and my son led me back to my home country to study medicine. During my studies, I got to pursue my enthusiasm for learning new things and sharing what I had learned again. This time in teaching ultrasound to my cohort and subsequent cohorts. This was followed by the specialization in Diagnostic and Interventional Radiology until 2020, where I also unconsciously chose a subject that combines both art and science: diagnostic imaging. This allowed me to expand the knowledge of human anatomy, technology, analysis and scientific approach.
It was never a choice of either or, but always both. Both Asian and Western influence and culture. Both art and science. Both radiologist and artist. Against this background, I have a deep resonance with Zao Wou-ki. As a synesthete, I paint the music I hear. Painting for me is a form of meditation, music & art a key to the collective subconscious and creative flow. In flow, one leaves consciousness aside. "A person paints with his brain and not with his hands," Michelangelo already expressed. Music is composed of vibrations and frequencies, colors as well. "We see colors, but not wavelengths," wrote C.G. Jung, who dealt deeply with the collective subconscious.
With family roots in the US, Europe, and Southeast Asia, as well as an international circle of friends, I would describe myself as a cosmopolitan, always full of curiosity and openness to learn about new cultures, languages, topics, and new perspectives.